Paige Academy
YBB students and staff pose with volunteers from Blue Cross Blue Shield in celebration of their 5th year serving together at local school, Paige Academy.
Shawmut Construction
YBB students receive a tour of a Shawmut construction site, where they had an opportunity to learn about commercial construction and conduct informational interviews with the employees.
YBB Students Learn
YBB students learn how to re-point a foundation by doing hands-on work at 556 Park Street. The rehabilitation project converts a blighted property into a lovely home for a low-income family.
The Designery
YBB Designery students explain their design ideas to a group of 'guest critics' at a design review. The students' design of a trash bin enclosure for the UU Urban Ministry was constructed later that Fall.
Designery Open House
Students practice their networking skills at a Designery open house. The semester's work is on display, and guests have an opportunity to meet the students and ask questions about their projects.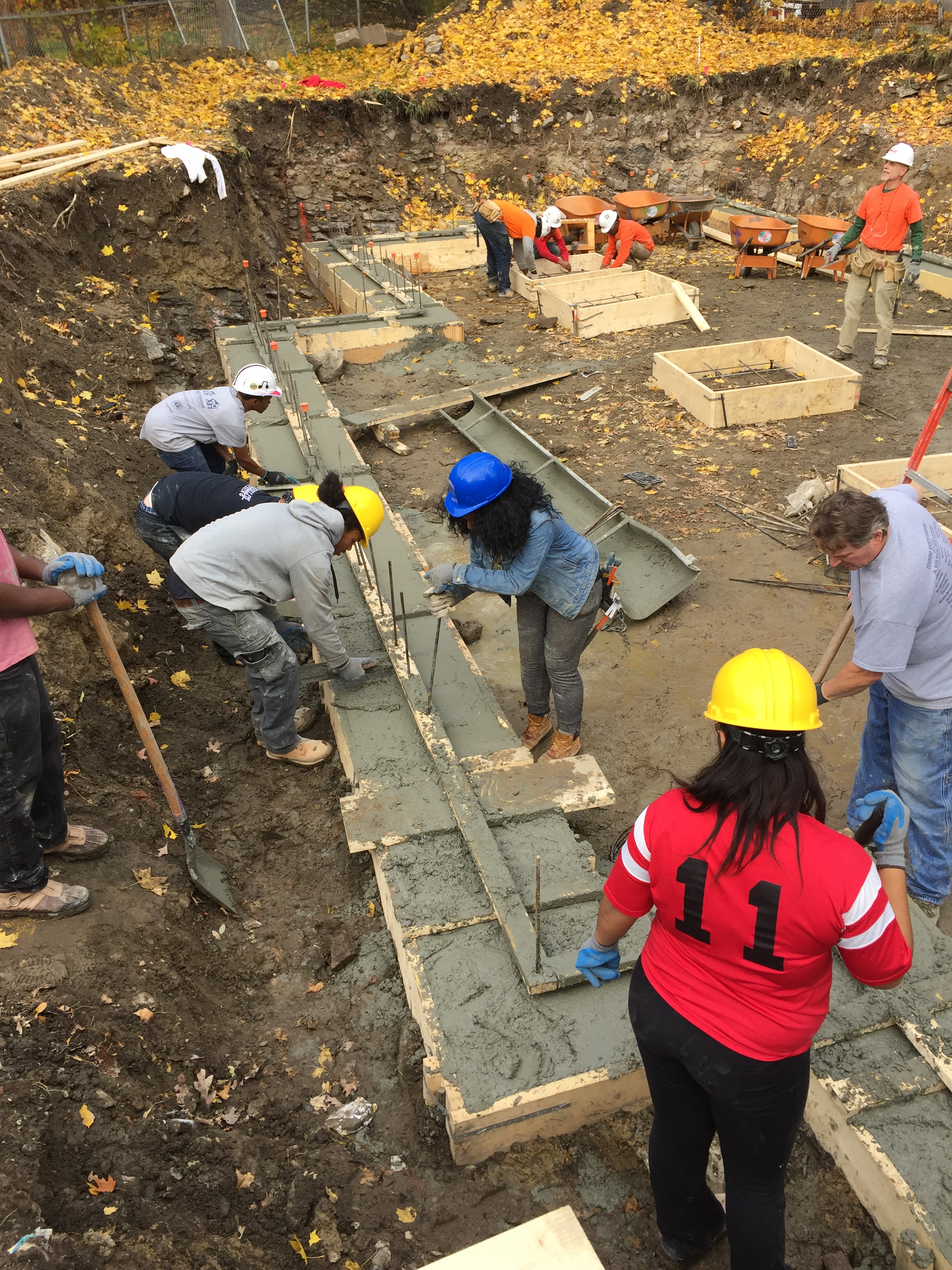 YBB Helps Families
YBB students work alongside their instructors to pour concrete footings at 31 Woodville Street. Two lucky families will call the affordable housing project home in late 2017.
LEED Certifiable Projects
YBB students learn about sustainable building materials and methods while installing an insulated concrete form (ICF) foundation at 31 Woodville Street. The project will be LEED certifiable.
YBB students and Starbucks
YBB students and Starbucks volunteers give new life to a local playground. The playground is dedicated to Trina Persad, a little girl who lost her life as a bystander in a shooting at this site.
YBB and Botany
YBB Students learn how to grow their own vegetables and care for a garden by volunteering at the Haley House farm and community garden.
Stages of Construction
YBB students work together to finish one side of a foundation wall built from Insulated Concrete Forms. The students are exposed to all stages of construction, from site excavation to finish carpentry.
YBB and Bank of America
YBB students volunteer alongside Bank of America employees at a community service event for Hawthorne Youth and Community Center. The group built 6 picnic tables, among other projects.
YBB